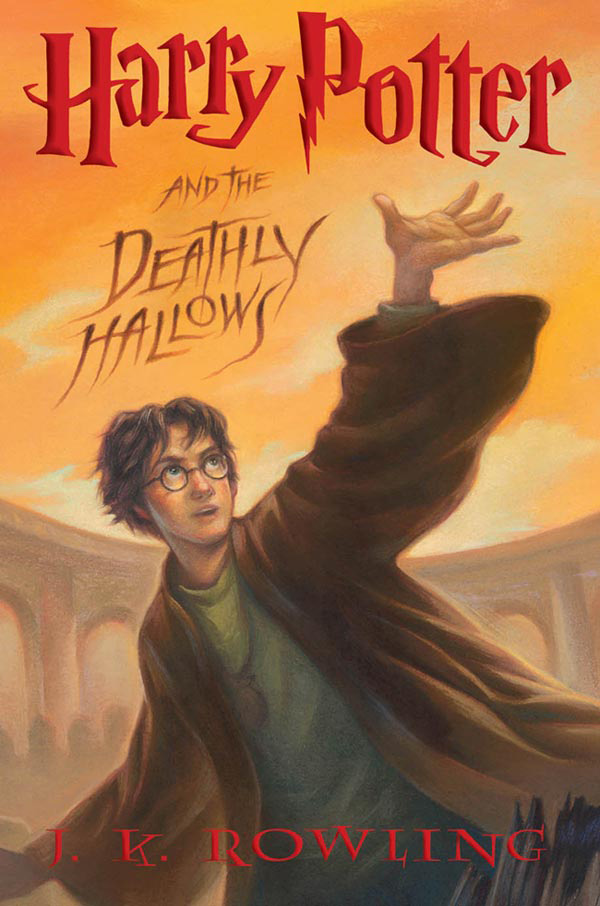 Are you a Harry Potter fan, but like me, you just can't seem to find time to sit uninterrupted and read the last book? As a (temporary) anesthesia resident, I had lots of time to relax and read behind the blue curtain in the OR. I gobbled down 3 or 4 Harry Potter books with great enthusiasm during those 4 hour appys (performed by new surgical interns in the middle of the night, as they literally fell asleep mid-operation, dropping their tools, and falling face first onto the sterile field...but I digress). However, as an EM resident...needless to say, there was standing room only in the ED at the Kingdom. Sooo, I fell behind.

I'm a cliff note version type of person...
...if you wanna know what happened because you actually care about Harry, but aren't interested enough don't have enough time to read the book, keep reading. Actually, knowing the spoilers makes me want to go get the book...and read it!!
***


Who lives?
Hagrid lives.
Professor McGonagall survives.
George Weasley lives - he's wounded, but lives.
Draco Malfoy lives.

So who dies?
Snape is killed by Voldemort, well actually by the big snake, and as he dies, he passed on his 'memories' as a silver liquid to Harry...which would allow him (Harry) to finally 'see' what happened with his mom many years prior.
Professor Charity Burbage dies - professor of muggle studies at Hogwarts.
Hedwig the owl, Harry's own, dies.
Fred, Rons's brother dies.
Scrimgeour, the Minister of Magic is killed.
Gregorovitch, the wandmaker, and Grindelwald, the dark wizard.
Dobby, Harry's protector creature dies.
Some students die.
Crabbe, Malfoy's sidekick, was killed by the Fiendfyre he created to kill Harry.
Dumbledore does something stupid with a ring, and begins a slow, sure death.
Oh, and Voldemort dies...actually he sorta inadvertantly commits suicide...dying nonetheless.
Of interest: Turns out his mom was a wizard, and her sister, Petunia was a muggle.
Petunia was very jealous of her sister. Wasn't Petunia the Aunt that Harry lived with? The family that locked him in his room in the early books? I guess that's the reason they hated him, because the Aunt was hateful, and jealous of his mother.
Snape and Lily were childhood companions.
What's with Snape?
When Voldemort goes after Lily's son, he begs him to spare Lily (because he loves her, and had for a long time. But since he was an 'Evil doer' they couldn't be together). When Voldemort shows no mercy, and kills Lily. Together with Dumbledore, he secretly protects Harry as a tribute (in a way) to Lily.

The Horcruxes are the objects which house the pieces of voldermort soul when he split it into pieces to increase the likelihood that he'd live forever, since all the souls would have to die in order for him to die.
The pieces of his soul (thus the horcruxes) were in:
Tom Riddle's Diary
Gaunt Ring
RAB locket
Hufflepuff's Cup
Rowena Ravenclaw's Lost Diadem
Nagini the big snake
The Sword of Gryffindor
And (get this) in Harry Potter.
When Voldemort went to kill Lily, she used some sort of spell that 'reflected' the Voldemort's curse, causing a piece of his soul (unbeknowst to him) to break off into Harry - this is why Harry can talk 'snake language' and seems to 'be connected' to voldemort in thought sometimes.

In the end, it seems like Dumbledore "just kept Harry alive so Voldemort can kill him at the right moment....raising him like a pig for slaughter."


In short, Dumbledore betrays Harry...and Snape. (This is revealed via Snapes aforementioned 'silver memory liquid.')


What are the Deathly Hallows? They are the objects of 3 brothers who cheated death. The third brother, Ignotus Peverell, was a common ancestor of both Harry Potter, and Voldemort. The items - the first was The Elder Wand, and the second was The Resurrection stone located inside the Snitch, and the third was the Invisibility Cloak that Dumbledore had the night Harry's parents died. "Three objects, or Hallows, which, if united, will make the possessor master of Death....Master....Conqueror...Vanquisher...". So it's good vs. bad. Hallows vs. Horcruxes.
Interestingly, Voldermort was raised in a Muggle orphanage.

And they live happily ever after...
On page 753 begins the epilogue, 19 years later. Harry and Ginny have a daughter named Lily, James and Albus. Ron marries Hermione and they have a daughter, Rose and Hugo. Draco Malfoy is married and has a son named Scorpius. They happen to meet up in the infamous train station as they send their respective, age-appropriate children to Hogwarts on the magical train.
And finally, his forehead scar pains him no longer.
**I apologize now if this information turns out to be complete bullshit completely inaccurate. This is what happens when you rely on random websites for information.